Without breath there is no life
Yet many of us take how we breath for granted
What Does Integrative Breathwork Do?
Oxygen feeds our cells and unless we are breathing deeply and fully, our body is not getting all the oxygen or releasing all the toxins necessary for optimal health.
Our mental and emotional states are also greatly affected by our breathing patterns. We can change our chemistry, outlook and attitude by changing the depth, rhythm and rate of our breathing. Simply Put, Change your Breath, Change your Life!
The use of breath to improve our health, emotional state and mental clarity is a skill everyone can benefit from learning.
Integrative Breathing opens and clears restricted breathing patterns producing:
Integrative Breathing clears the subconscious mind which allows us to:
Integrative Breathing eases accessibility to higher dimensions and levels of consciousness to give us:
What is an Integrative Breathing session like?
Integrative Breathing is not therapy, It is an advanced technology which takes us beyond the mind into the transpersonal realm. Because the technique works so deeply, you may accomplish in one session what could have ordinarily taken years.
Each session is a unique self-healing adventure. For approximately one hour, you will lie down, relax and engage in deep, connected breathing (continuous breathing with no pauses).
You will be taught how to open restricted breathing patterns so your entire respiratory system is utilized. Awareness on feelings and energy patterns in your body as you breathe is maintained for the session. Integration is often very gentle and joyful and at times intense. The result is a deep state of relaxation and peace.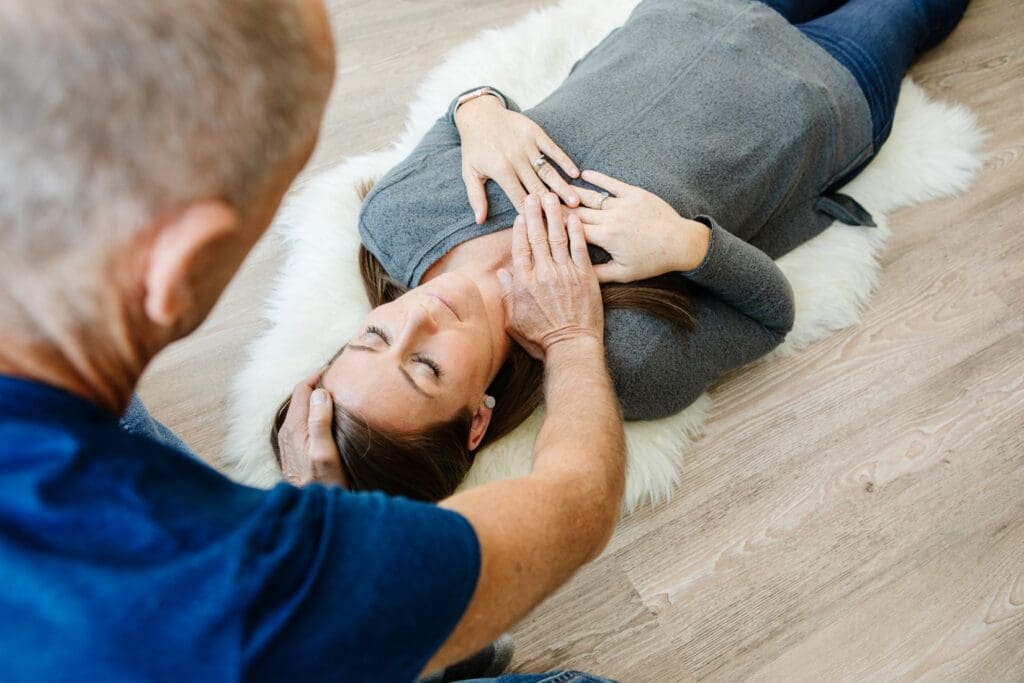 Breathwork and Sound Therapy Signature Retreat
Discover how our Signature Retreats can help you step into your peace, power and purpose… Release self-sabotage, heal past pain and reclaim your confidence
Of all the self healing systems and methods I have experienced over many years, none have the power which I experienced with Integrative Breathing! Today's session with Dale and Nicole was truly amazing as I went through my life challenges, birth and near deaths; I have finally come to peace with the traumas, which have shaped and controlled my life. My body is feeling more like home and my inner peace is very present.
For the experience of your life, I would highly recommend taking the integrative breath playshop with Dale and Nicole. Come with an open mind, your breath and be prepared to be blown open!!! It is truly life altering. Dale and Nicole provide a comfortable, safe and fun environment so you can get exactly the experience you need.
"Phenomenal! My first Integrative Breathwork session with Dale and Nicole was one of the most powerful healing experiences of my life, and also the most paranormal (without the use of psychedelics, that is). After a cathartic release of deep-seated emotions, I felt for the first time ever, the presence of energetic or extra-dimensional beings around me, who were clearly supporting my healing process. With my practitioners sitting well out of arms reach, I literally felt hands on my belly, shoulders, neck, and head, subtly massaging and sending me positive messages: that I am healing now, everything will be okay, and to stay on my mission. I was totally blown away. They say that the breath does all the work (and "spirit" is the root of "respiration"), but it surely wouldn't be the same without such talented and heart-centered friends guiding me through the process. With peaceful, grounded, playful and enlightening energy, they seem to create sacred space wherever they wander. I look forward to seeing them again, practicing integrative breathwork daily, and sharing this powerful modality with others. Namaste".
The time spent with you in breathe via skype was really centering and brought me much joy. I wondered how it would be without being together physically and facilitated that way, but I must say I was pleasantly amazed knowing that being together in spirit with the breath and your very intuitive guidance of words and much more was perfect. My intention for the session was to become more and more authentic because I'm realizing that's where the magic is, to transform oneself to open up and to love. To love all things including myself, others and expansive 'everything'. While in the breath, I noticed this volcano deep in the ocean, erupting, 'degassing' as it's called. The entire Earth and 1000's of other planets and moons are continually 'degassing', these are volcanic gases released from deep within the mantle and are that which creates an atmosphere. Earth is the only planet so far that we know of that has developed such an atmosphere for this beautiful life we are living, that supports our ability to breathe and live! I saw all of this in it's perfection. The breath within me coming from spirit, one with all that is supporting me that's so big - a universe so large yet supports my breath. A miracle! Thank you for supporting me, too, Dale and Nicole, in letting go and opening in such a loving way. In breath.
I felt so very blessed on many levels after my first group breath session which lead me to a couple of individual sessions & a few more group sessions. Each one has given me so much beautiful insight & healing of great emotional pain. I myself did not realize how much I was carrying with me in my subconscious, each release makes me feel like I have created more gentle space within! I thank you both with great appreciation for always creating such a safe space, for being in your authenticity and genuinely coming from your heart space.This gift you graciously offer was so what I needed for my evolution to find pure joy within & not spend my life being sedated. Who knew all I needed to do was breathe! Thank you for your sincere devotion to this profound teaching! I am also thankful and amazed at the depth of insight I received during my Thai massage with Nicole. Breathing deeply and laughing loudly thanks to both!
Nicole and Dale are truly a fantastic pair of facilitatorsTo experience such a transformational modality with -- They complement each other so well!!The breath work itself is powerful medicine and I feel so fortunate to have been introduced to it through Nicole, yet powerful team her and Dale make in creating support, community and equipping me with the skill to offer it to othersIs equally as powerful! Attending their facilitator training with them gave me a good nudge to work my purpose in the world -- It gave me the confidence to walk it with more truth and I am deeply and forever grateful for that!! Thank you!
Taking the breath facilitator course with Dale and Nicole has given me a deeper connection to not only my breath but also myself. I have been able to maintain a regular breath practice which has greatly benefited my everyday life I highly recommend the course as a guide to a deeper more present form of living.
The facilitator training provided by Dale and Nicole was the perfect balance of hands-on experience and learning. The to make a great pair, Offering varying perspectives to consider while facilitating. The experience I had during my time at the facilitator training had me feeling vibrant. I left there with the confidence and desire to begin my own practice. I would highly recommend a program for anyone that is still curious about the true power of our breath.
I have found the breath facilitator training with Dale and Nicole to be outstanding. I have taken the course three times and each time I learn new things and refamiliarize myself with the valuable information. Nicole and Dale individually bring so much to the table and together they are a phenomenal team. The progression of learning throughout the week is well-planned with a mixture of observation, Hands on practice and lectures. I feel it is one of the best courses I have ever taken.
I have been attending daily Nicole's breath works sessions and In-depth series Sessions regularly for the past couple of years. They're thoughtful and loving guidance through these experiences has been a really important part of my life over this time. I have learned a lot from them about better connecting to myself so that I can better connect with the people around me who are important. This has resulted in more fulfilling relationships both personally and professionally. I have also really benefited from their breath work sessions in terms of stress relief. I store stress in my shoulders and neck and after an hour conscious breathing I feel the softness in my muscles that were previously holding tension. This is led me to feel better overall in my body and made my day to day life more comfortable.
I have known Dale and Nicole for over eight years. I have participated in the individual breath sessions, Group workshops and completed the facilitator training that they offer. In the past 20 years, I have experienced and facilitated a variety of conscious connected breathing methods. The method that Dale and Nicole practice encompasses several tools and techniques that offer the whole package to anyone wanting to do personal growth work for themselves or with others. I am so impressed and amazed at the level of knowledge and skill with which Dale and Nicole facilitate all levels of breath training. They are experts in their field. They truly practice from the heart and are genuine role models in the art of unconditional love. I've been able to nurture myself back from burnout and deepen my relationship with myself and others because of their amazing support. Since completing the facilitator training, I have gained the confidence and skills that I needed to support others using conscious connected breathing. Mostly, I have learn to practice unconditional love towards myself and this is the foundation upon which I stand to share conscious connected breathing with others.
Thank You so much for the Integrative Breathing experience. My heart is so full of light and gratitude I cannot put it in words. I went in with an openness and trust and enjoyed the most memorable evening of my life.
The 6 Day Facilitator Training was one of the most important things I've ever done in my life. Everyday was a joy to experience and my challenges I met were resolved thanks to the breath work. Thank you both for the most amazing experience learning how to help others open up the power of their own breath.
The Breath Facilitator Training was one of the most powerful and transformative experiences of my life. It really showcases the love and dedication it takes to share space with someone and how beautiful of an experience it can be. It allows for so much growth and learning to develop for each participant, not just in how to facilitate a breath session but how to deepen our own breathing practice as well. Dale and Nicole are both amazing teachers and truly beautiful human beings and their knowledge, understanding and support during the training was absolutely phenomenal. Would highly recommend this training to anyone wanting to share this type of modality with others as well as anyone wanting to deepen their own personal journey with the breath. The training was an experience I will never forget and always cherish.
Conscious Connected Integrative Breath Facilitator Training
Become a Breathwork Facilitator or deepen your own practice
Foundational Breathwork theory, philosophy, and techniques, including experiential education in:
The technique of conscious, connected breathing
Related breathing techniques that support and complement conscious, connected breathing
Reading the body and breath
Developing the ability to perceive the imbalances/"story" in the body and breath
A wide variety of effective tools used to safely and confidently facilitate others
Conscious touch
Affirmations correlating to the story of the body and breath
Mid-session dialogue and inquiry
Toning, releasing movements, and body repositioning
How to recognize and work with common breathing patterns
Use of intention, invocation, and themes
Holding of sacred space
Collaborating with other modalities
Life Coaching skills and training
The Integrative Breathwork Facilitator Training Manual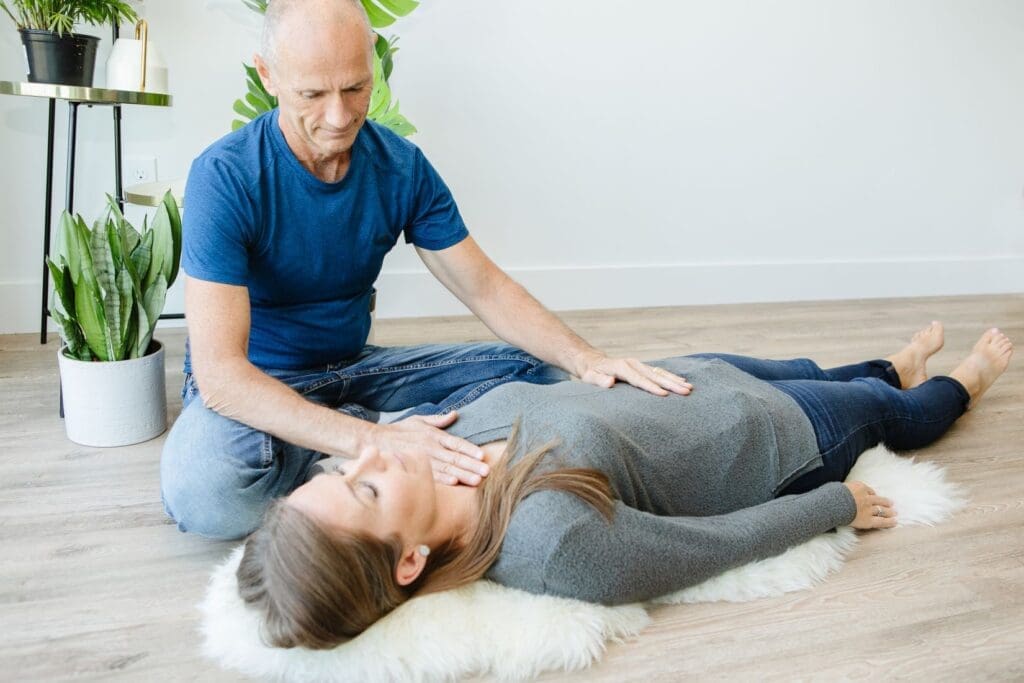 Conscious Connected Integrative Breath Facilitator Training Levels 1-3
In this comprehensive six month training:
You will receive individualized support with your Breath Practitioner Certification
Be able to facilitate transformative individual breathwork sessions
Confidently lead group breathwork sessions
Receive business coaching and support to be able to grow your impact in the world
Next Breathwork Practitioner Training begins November 13, 2023
Upcoming Integrative Breathwork Facilitator Trainings
March 27-April 1, 2023 Level 2 and 3 Training
Nov 2023 Level 4 Training
Spring 2024 Level 2 and 3 Training – Dates to be Announced
Space is Limited, Preregistration is Required
Investment: $997.50
Includes Breathwork Facilitator Training Manual